W W W . S T R U D W I C K . N E T
---
The Decendants of William & Betty Strudwick
and Alfold project pages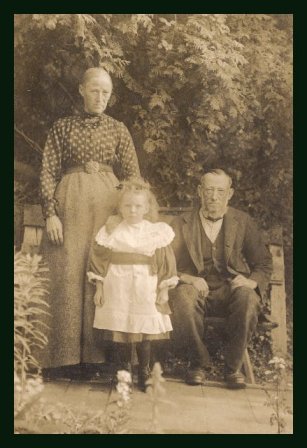 James and Maria Strudwick with unknown child
(Circa 1900 at Alfold. Photo courtesy of Derek Ryde)
My oldest ancestors so far discovered during this project are William and Betty Strudwick of Alfold. They had 10 children spanning the years 1764 through to 1785. Little is known about them so far but what is known will be added to this page as and when it comes to light. What is certain is that there will be many direct decendents of William and Betty out there.

There is no marriage recorded at Alfold for William and Betty (or Elizabeth) at the time that it should appear but there is a possible marriage between William and Betty at Bramley but i'm not so sure about this being a match at this time although I guess nothing should be discounted.

I have recently been presented with a partial family tree which originates from research carried out by a certain Leon Strudwick of Worthing passed to me by Derek Ryde. At the bottom of this page I have started to plot this tree as a means to carry on further research. The tree sugests a line from William Strudwick of Alfold (born 1736) back to a Thomas Strudwick of Dunsfold (born circa 1575) which if verified as our William's linage would be another very exciting development.

The Children of William & Betty

---

Alfold Churchyard

Unfortunatly as discussed on the general Alfold page, there is only one surviving Strudwick stone in the churchyard (not counting the war memorial). Below are the grave numbers and then how these Strudwick's fit into my family tree. For myself and many other Strudwick's out there with their roots at Alfold, this grave stone is all that remains to show we were there (apart from written records of course).

Grave no. 27, Row 4 West (shared stone - transcribed below or see a picture here )
William Strudwick, Alfold Crossways, Retd: Labourer, born 1851, died aged 86 years, buried 20/11/37

Grave no. 9, Row 3 East (shared stone with no. 27).
Agnes Mary Strudwick, Alfold, born 1858, died aged 73 years, buried 17/9/31.

Grave no. 7, Row 3 East (shared stone with no. 27).
William Strudwick, Shrubbs Farm, Baynards. Labourer, born 1875, died aged 34 years, buried 15/4/09.

Grave no. 6, Row 2, East (no stone).
James Strudwick, Ivelle, Cranleigh, born 1828, died aged 73 years, buried 12/12/01.
Maria Strudwick, Alfold, born 1832, died aged 69 years, buried 13/02/01.
IN LOVING MEMORY
OF
WILLIAM STRUDWICK
DIED NOV 14TH 1937 AGED 86 YEARS
ALSO OF
AGNES MARY STRUDWICK
WIFE OF ABOVE
DIED SEPT 13TH 1931 AGED 75 YEARS
ALSO OF
WILLIAM STRUDWICK
SON OF ABOVE
DIED APRIL 6TH 1909 AGED 34 YEARS
PEACE PERFECT PEACE
Below is the decendent line in bold, from my oldest known ancestors being William and Betty through to the three Strudwick's on the grave stone. This may seem like a lot of work for a gravestone that is quite recent in genealogical terms but you have to remember there are no other Strudwick stones at Alfold. We also have to take into account that this line was the last line of Strudwicks left at Alfold as many of the other branches of this family, including my own, had since left for other places ie London probably during the industrial revolution. It is quite possible that all the Alfold Strudwicks decend from 'John Strodwyke otherwise called John Awlfold' who died in 1544, and if this is indeed the case, this one gravestone signifies the end of a very long history in that village.


William and Betty marriage date unknown.

Children

1764 22 Jul John
1766 27 Apr Charles
1768 18 Sep Emey
1770 15 Jul James (my direct line)
1772 15 Nov Henry
1775 19 Mar William
1778 19 Apr Arthur
1780 19 Mar George
1783 12 Jan Ruth
1785 13 March Elizabeth

Henry Strudwick and Hannah Hill married 19 April, 1797

Children

1797 25 Jun William
1801 16 August James
1804 29 July Hannah

William Strudwick and Mary Kennings married 2nd April, 1823

Children

1823 22 Jun Mary
1825 14 Aug Sarah Ann
1827 02 Dec Elen
1830 21 Mar James
1832 11 Nov William (died 01 Oct 1833 aged 11 months)
1834 28 Sep Henry
1837 15 Jan George
1839 10 Nov Harvey
1842 21 Aug Richard
1846 01 Feb Susanna

James Strudwick and Maria Vincent married 29th May, 1850

Children

1851 09 Nov William
1855 14 Jan James William
1857 25 Oct Ellen
1860 01 Jul Thomas
1863 05 Jul Mary Jane

William Strudwick and Agnes Mary Barnett married 27th Dec, 1873

Children

1875 William (died April 6th 1909 aged 34 years)
1876 Percy B.
1878 Harris
1881 Gertrude
1884 Mabel M.
1886 Ernest A.
1888 Trottie
1892 3 July James Samuel
1897 28 Aug Margaret Victoria May
&nbsp
Dunsfold Strudwick(e)s
This is the proposed Dunsfold tree as discussed above. Follow names marked in bold for linage. I will move the Dunsfold project to it's own page when more time allows.

Thomas b.c1575, m.c1600, d1641 (there is a listed will of which I have a copy)
Note: made a loan or voluntary subsidy to the King of 40s/- in 1626.

Properties mentioned in the will include, 'Parcel of land and house.. called or known by the name of Crops', also, 'land called Lombards', '??ilthill','Lambards' and 'a parcel of land called Hurland'.

Children

Thomas b.c1602, m.c1630
John
Nicholas
Alice
Amy

Thomas Strudwick married c1630 to unknown.

Children

Thomas b.c1635, m.c1665

Thomas Strudwick married c1665 to unknown.

Children

Thomas b.c1670, m.c1700

Thomas Strudwick married to Mary cira 1700.

Children

Mary b1704, d1707
Sarah b1706, m1738 to Wm Stent of thursley
William b1708, d1749
Mary b1709
Hannah b1713
Thomas b1716, m1743 to Mary Ede at Kirdford?
Elizabeth b1718
Dulcey 1719, m1756 to Wm Boxall at Kirdford

William Strudwick married to unknown

Children

Margaret b1735
William b1736
Thomas b1736
Ann b 8/9/1745

William and Agnes on their wedding day, 27th December 1873
(Picture courtesy of Derek Ryde)

---

Back to homepage